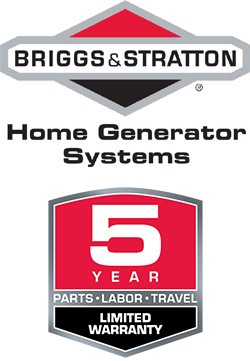 AMHAC provides a full line of standby generators that run on natural gas. They are equipped with automatic startup and shutdown which guarantees that essential services in your home will always be on. Imagine the peace of mind your family will have knowing that your heating, hot water, air conditioning, sump pump, kitchen appliances, and washer and dryer will work during a power failure.
When looking into the purchase of a generator there are many challenges that face the consumer:
How do you select a product? (stationary versus portable)
How much will the entire process cost?
How do you match the sizing of a generator to your home's needs?
What are your power priorities?
What is the noise level as measured in decibels?
Generator Requirements
AMHAC is your one-stop shop for generators. When you choose to work with us, we'll handle the entire list of generator requirements.
1. Complete Exterior (Non-Building) Permit Application. Submit with proper fees including gas test fee.
2. Three (3) sets of a Survey showing the actual shape, dimensions, radii, angles and area of the lot on which the generator is proposed to be installed, or of the lot on which it is situated, if an existing building.
3. Plumbing permit will be required.
4. Electrical Permit application along with a copy of the Electricians Electrical License.
5. Specifications of the proposed Generator to be installed.
Insurances:
1. Worker's Compensation insurance.
2. Certificate of Liability
3.Certificate of Disability
4.Westchester County Home Improvement Certificate
Client Testimonial
"Dear AMHAC Team,
The whole house generator you installed for me after Sandy was pretty lonely for years. Just heard it self-test and I kept up the regular maintenance you recommended. But the generator came to life for 5 days during Hurricane Isaias and performed flawlessly. Everything in the house was powered perfectly- including central air, pool equipment, dishwasher and washer/dryer. It worked so well that I actually felt guilty leaving my lights on when my neighbors were in the dark. And some of those neighbors even had generators from other companies that were not working – and they could not get in touch with their guys. You have been there 24/7 for me for over 25 years for all my HVAC needs and now my generator needs as well. Thank you for a job well done. "
S.B., New Rochelle NY