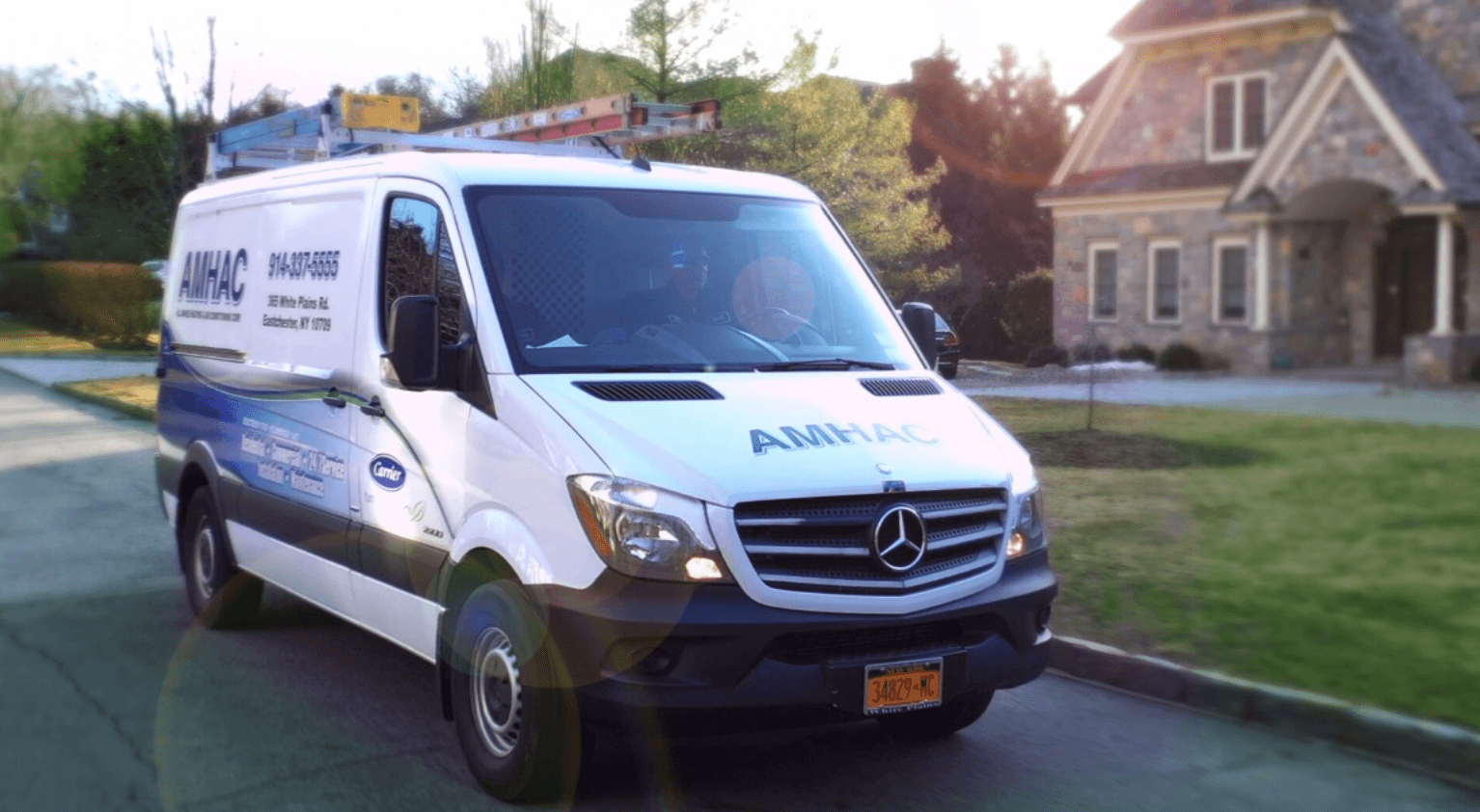 In 1923, the late Stefan Weinberg, founder of All Makes Heating & Air Conditioning (AMHAC), was born in Krakow, Poland. At the age of 16, his hometown was invaded by the Germans, and Weinberg's family was stripped of everything they owned, confining them to the ghetto and then a concentration camp. The next years Weinberg spent digging mass graves, retrieving corpses, and enduring the horrors of the Holocaust.
After World War II was over, Weinberg was reunited with Anna Unger, who he had met at the first concentration camp he was moved to, and the two of them wed and moved to the U.S.
In 1949, the Weinberg's settled in Lancaster, Pennsylvania. Weinberg took a job with Holland Furnace Company, cleaning furnaces and working his way to the top until he was offered the role of president at the company. Weinberg declined the offer, instead setting out to open his own company: AMHAC.
AMHAC Serves
The Weinbergs moved to New York, had two sons (William and Saul), and in 1953 founded the air conditioning company in Eastchester, New York. Upon their father's retirement in 1975, William took over the reins of the heating, air conditioning, plumbing, and electrical company as president, and Saul as the vice president.
"The Weinberg family are American heroes — not only within the HVAC industry, but heroes in the American dream story so many fight to achieve of freedom and prosperity," said Natalie Lloyd, general manager at AMHAC, who came to the company in 2009, taking an entry-level customer service position and working her way up. "Each embody a spirit of strength through faith, perseverance and good old fashioned hard work! No opportunity was left underdeveloped, and there was no excuse made that deterred any of them from success."
AMHAC serves the HVAC needs of 15,000 residential and commercial clients in Westchester, New York; the Bronx, Manhattan; and Fairfield Country, Connecticut.
The company has remained consistent in staffing 50-55 employees. They currently have 23 fleet vehicles, and in 2022 brought in $10 million of revenue. From 2020-2022, AMHAC grew 44%.
"Our No. 1 objective is to try to provide solutions to our clients … and always be honest and have integrity," said Pat Morano, master plumber of 40 years at AMHAC.
Marc Berman, senior sales engineer at AMHAC, says his favorite thing about working for AMHAC is the flexibility it offers.
"I've been given a tremendous amount of flexibility and support from ownership, all the way up and down the ladder, where I'm able to decide which clients are the right clients or which jobs are the right jobs," he said.
As with most contracting firms, the supply chain has affected AMHAC, but not all negatively. It's led them to be more resourceful when seeking out alternative equipment or suppliers. And fortunately, the company holds loyal partnerships with its distributors, CE Northeast as a AMHAC's leading partner, that have helped them get creative.
A Winning Spirit
The company now has over 70 years of experience, providing quality HVAC services under the same family since its inception.
"Our secret sauce is Bill putting together a team that has stayed together for decades, creating a commitment between us that has built momentum over the years," Lloyd said.
Not to mention the diverse, all-inclusive senior leadership team with various backgrounds and perspectives. The company is currently the premier Carrier dealer in Westchester, and was also awarded the Carrier Corporation's Dealer Hall of Fame award. In addition, the company serves as expert consultants to Fox Business, NBC, and several national magazines.
Within the past few years, AMHAC has won numerous awards for Best Places to Work, even being named to the Carrier Dealer Hall of Fame in 2022. Meanwhile, Lloyd has been awarded 2019 Top 40 Under 40 HVACR Professionals by The ACHR NEWS, as well as the 2021 Top Women in HVAC.
"Natalie has done a number of amazing things for the company in terms of additional recognition," Berman said. "We were always a good company, but now we're recognized as such through awards … and also just creating a work environment that is conducive to success … There's better training, good pay, benefits — all of these things that Natalie has implemented to make the company one of the best places to work."
The company has expanded their credibility and network of HVACR professionals through affiliations. By building relationships with the people these affiliations offer, they stay up to date on industry trends and best practices, open themselves up to new business opportunities, and access additional resources such as training programs, certifications, and educational materials.
Some of the affiliations and associations AMHAC is involved with include the Eastchester Chamber of Commerce and the ServiceTitan Community.
"We all became a team that envisioned championship-type winning," Lloyd said. "This helps us achieve success while fostering a positive team culture. It motivates individuals, fosters resilience and innovation, encourages collaboration, and contributes to a positive work environment. We all have the thirst for complete domination of our industry because of an infectious energy and winning spirit."
Company Culture
A transformation in leadership style was surely instrumental in laying the groundwork for so many recent awards. Berman attributes a lot of positive change to Lloyd and her leadership style. Guided by top influencers at the company who believed in her potential, like William Weinberg, Lloyd worked to rekindle the company culture and create faster, more centralized communication across departments. She also made a huge push for marketing across a variety of mediums: television advertising, internet, social media, etc.
"This reinvigorated company pride and launched our new slogan: 'AMHAC Strong,'" Lloyd said. "Our push to ignite company culture has led to thousands of dollars saved in recruiting and marketing, which we gave back to our employees via bonuses and commissions."
Lloyd understands the need to have employees at a company who can both manage the business and inspire employees. She believes that leadership comes first — even before the customer. And she's led by spreading responsibility and authority throughout AMHAC.
"AMHAC's transformation from controlling managers to all-inclusive leaders yielded immediate dividends in cooperation, motivation, and productivity," she said. "It requires continuous hiring, firing, and training along the way, but the result led to the right people in the right roles and training and development within the context of an inclusive, creative culture. AMHAC's 50+ employees are now more accountable and develop a sense of ownership to company results and delivering excellent service."
Part of Lloyd's success is how she trains her team: to never underestimate the emotional impact they have as a leader.
"If my leadership team does not appreciate, respect, and encourage those they lead, their employees will be quick to leave — or even worse, stay and only give us halfhearted effort," Lloyd said.
The Future
Looking ahead, AMHAC would like to merge or acquire other strategically aligned HVAC companies with the intention to diversify their services and accessing new expertise. The company is always trying to find ways to increase profitability through synergies and reduction of overhead costs. If a merge or acquisition were to happen, it'd allow the company the ability to drive economies of scale, while staying up to date with the industry's latest trends while developing and retaining a more talented workforce.
As for the future of the HVACR industry, it's hard for Lloyd to determine just exactly what she sees. There'll most likely be a struggle between supply and demand and an increase in the demand for HVAC services while still trying to navigate the supply chain and labor issues.
However, Lloyd does believe the HVACR industry will grow, with a move toward a more service-oriented business model.
"The demand for HVAC sales will be driven by urbanization, advancement in technology, and government subsidies and regulations," she said. "As densely populated areas require more advanced HVAC systems to provide better living and working conditions, the high rises, commercial spaces, and residential apartments will require more complex systems for more stringent regulations to ensure energy efficiency and indoor air quality."
Source: https://www.achrnews.com/articles/153065-amhac-led-to-inspire-hvac-contracting