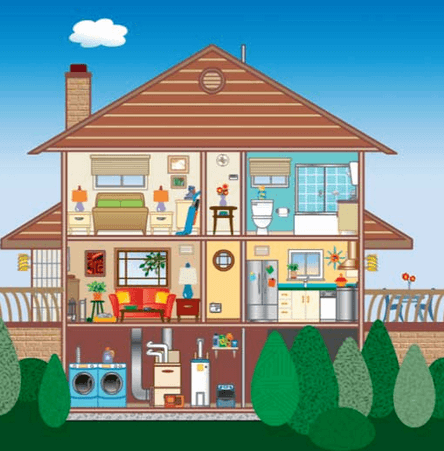 Consumers today are focused on their health and their home environments. Once the coronavirus outbreak subsides, many will choose to invest in these two areas by spending money on improving their indoor air quality. This creates an opportunity for contractors who offer the right equipment and know how to market it.
Consumers have rarely thought of indoor air quality, said Paul Redman, vice president of sales for marketing firm Ryno Strategic Solutions. For the most part, consumers only focus on their home HVAC systems when they aren't producing either heat or cold — and then they only care about getting the system working again, rather than improving its performance. Many times, the HVAC professionals in the home only care about restoring operation; Redman said they either don't believe in the value of IAQ themselves or they don't believe customers will pay for it.
During the COVID-19 pandemic, contractors have a fine line to walk when it comes to marketing IAQ. Air scrubbers and ultraviolet lights are used in medical settings, but neither is proven conclusively to stop the spread of coronavirus. Even if HVAC contractors limit their sales pitches to the actual advantages of IAQ, they need to avoid coming off as profiting from this disaster.
"They don't want to seem too opportunistic," Redman said. "At the same time, this is the time all contractors and all consumers need to realize there is an opportunity to improve the indoor air quality."
Calls About IAQ Greatly Increase
Chris Yano, Ryno's CEO, said contractors need to focus on awareness rather than taking advantage of fear. He recommends they pull Google reports to know what local customers are searching for. Yano said people continue searching for HVAC services at a high volume in general. They are at home, and they are using the equipment more. Filters trended more than any other term on Feb. 16, as news of the outbreak started to spread.
Kyle Canaday, vice president of Canady's Heating, Air, and Plumbing in Georgia, never promises air scrubbers will stop coronavirus, but his firm includes them with each installation, and techs offer them on each call. The firm offers a photocatalytic ionizer it has tested and found effective. Canaday said calls have greatly increased in recent weeks, although part of this due to the firm decreasing the price.
"I have the feeling there's a lot of people trying to take advantage of the situation," Canady said. "I hope that's not the case, but you see it in every other industry."
Natalie Lloyd, general manager of All Makes Heating & Air Conditioning Corp. (AMHAC) in New York, said her firm avoids overpromising when it comes to IAQ. Lloyd said AMHAC has been around for 60 years and plans on being around for many more, so it has no interest in making a quick buck. They are letting their customers know what they can offer, as more of them spend time at home and think about the quality of their environment.
Energy Efficiency Works Against IAQ
AMHAC has long offered an array of IAQ equipment and services, ranging from MERV systems to air duct cleaning. Interest has been sporadic over the years. The bigger focus has been on energy efficiency, which offers a more obvious and immediate benefit, Lloyd said. In many ways, this works against IAQ. People don't want air coming in or out of their home in the winter. People are less likely to open their windows. These enclosed spaces need a mechanical solution that was previously provided by the structures themselves.
Lloyd said HVAC contractors need to change their focus when it comes to selling IAQ. They need to present it as a way to maintain and improve health.
"The HVAC industry has to go toward more of a safety approach and a health approach," she said. "You can go the gym, you can be a healthy individual, but your home has to be healthy as well."
IAQ impacts a variety of conditions, including respiratory ailments like asthma. These are the kinds of health concerns people have grown more concerned about in recent months. But IAQ is only a general topic that can include concerns about dust, mold, and other irritants. Rodney Koop, CEO of the New Flat Rate, said contractors need to diagnose homes based on the health concerns of the occupants.
Redman has a personal interest in the topic. He suffers from severe allergies and has seen the benefit of IAQ products in his own home. He finds IAQ adds to home comfort by reducing the irritation caused by allergens.
Duct Cleaning Robocallers Give Industry Bad Name
One of the ways to improve IAQ is through duct cleaning. Mark Zarzeczny, owner of Advance Clean Air Specialist and president of the National Air Duct Cleaners Association (NADCA), said his association members report more calls now, although not all are related to coronavirus concerns. Much of it comes from people spending more time at home and noticing problems
"A lot of the time we find things that are in the duct work are direct causes of what they are experiencing," Zarzeczny said in a recent podcast for The ACHR NEWS.
Unfortunately, consumers are getting more calls for disreputable duct cleaners as well. This is a constant problem for the industry, Zarzeczny said. He said NADAC members "actually do the job and they take the time to do it." Others don't do the work and misrepresent what the service delivers, he said. For example, the Federal Trade Commission and the Federal Communications Commission recently partnered to crack down in robocallers, including one originating in Pakistan that offered HVAC cleaning services that the call claimed help fight COVID-19.
Regulators and the media are keeping an eye out for exaggerated claims. Scam artists taking advantage of the situation create even more confusion. Contractors need to use caution when offering IAQ products right now. They also need to understand interest might wane once the outbreak eases. Koop said IAQ seemed poised for great sales 20 years ago, when anthrax made news. Once the problem proved limited, the market disappeared.
Coronavirus looks like it will yield a bigger impact on society. Many people will continue spending more time at home, even once governments loosen movement restrictions. For contractors who do it right, this should prove the time for selling IAQ.
Source: https://www.achrnews.com/articles/143181-now-is-the-time-for-hvac-contractors-to-sell-indoor-air-quality